You could call them the Rolls Royce of chicken houses. Flyte so Fancy have led the field in the creation of luxury coops, including their beautiful Gypsy model. In this special feature we explain the secret of their success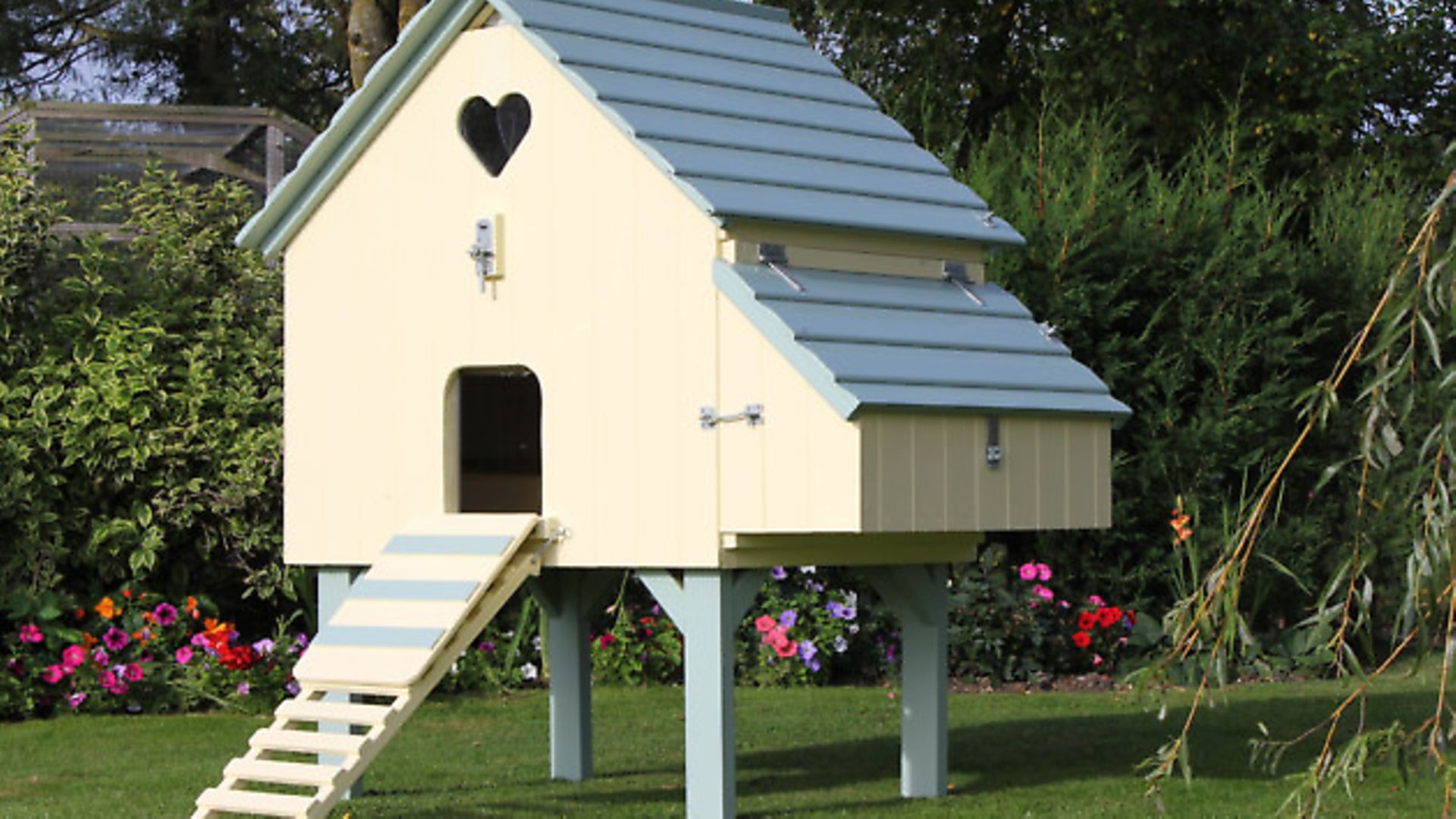 Top of the range chicken houses made by Dorset-based family business Flyte so Fancy are things of beauty. Their stunning Gypsy Daydream, for example, is modelled on a traditional gypsy caravan. This romantic little caravan is such that its owners might be tempted to covet it for themselves for an idyllic retreat rather than hand it over to their chickens! It has a price to match – at £3,990 – but that hasn't stopped many well-heeled chicken keepers from acquiring one.
Your Chickens interviewed Flyte so Fancy office manager James Bezant, so we could tell the fascinating story of this highly successful business.
Who are the people behind Flyte so Fancy and how did it all get started?
A: Flyte so Fancy started out as the baby of Phill and Anne Weymouth at 'the bottom of the garden' all the way back in 2001. From his workshop, Phill began selling his uniquely designed and hand- built dovecotes from the garden gate. It wasn't long before customers, stopping off to see the dovecotes and bird tables, remarked on the hen house Phill had built for his family's own chooks. Word spread, and more enquiries started coming in. By 2003 Anne had made their first website and the company just grew and grew. Nowadays, the Flyte so Fancy team consists of 13 full time dedicated craftsmen, despatchers and office staff plus six part-time staff, as well as Phill and Anne, not to mention the resident Flyte so Fancy flock who live with them in their rural corner of Dorset.
Tell us how the business has developed over the years?
A: Phill's very first hen house was sold to a lovely local lady and now, 13 years later, her name still adorns our most popular chicken coop, the Maggie's Hen House. In those 13 years, the demand for Flyte so Fancy chicken coops has increased, as they have acquired a reputation for their quality, practical features and gorgeous rustic aesthetic. With the options of long legged houses and an increasingly popular painting option, the hen house range now comprises 25 designs, a growing staff and selection of products covering everything you would ever need to keep a hen happy, the introduction of the ultimate in chicken coop luxury, the Gypsy Hen House, to the raising of the barn shop and the expansion of the FSF flock to include ducks, geese, guinea fowl and even more chickens. It's been an exciting 13 years!
What is Flyte so Fancy's unique selling point?
A: From day one, Anne and Phill wanted to be proud of what they produced. They wanted it to be something that stood out in the wider market as a product of quality. Phill's meticulous training and working on aeroplanes in the Royal Navy has left its mark on his hen house designs, from sanding everything to make sure there are no rough edges, through to using only the highest quality materials, precision is Phill's watchword.
Phill took the time and trouble to source the wood from one family mill in the very north of Sweden, where the trees are incredibly slow growing, giving the strong sturdy timber we use, and this is what makes our houses unique.
Whilst Anne's training in the Royal Navy Meteorological Office could arguably be a little less precise (that being said she can name more than 50 different types of cloud, and I thought there was only one), she and her customer service team are always at the end of the phone for a chat about chickens, to take orders and to offer advice in the best way they can. Phill and Anne have kept chickens for more than 30 years, and the rest of the team are all potty about our poultry too, so this means we really do understand the needs of chicken keepers.
Tell us about some of your biggest selling products?
A: As we move through the summer, every day at Flyte so Fancy is a busy day, with hen houses, poultry health and hygiene products, feeds and little treats winging their way out of the door and all over our little island nation (and sometimes a bit further too).
Our most popular hen house is the Maggie's Six, but proving very popular this year is the Stroller Hen House. A hen house on wheels, designed to be picked up like a wheelbarrow and moved to pastures new, with an external nest box for easy egg collection and all the extra mod cons to make chicken keeping easy, it's great for those with a larger area looking for a mobile chicken coop.
Increasingly in demand this year from both existing and new customers are automatic pop-hole door openers for their coop. Flyte so Fancy stock both the highly versatile British ChickenGuard auto door as well as the incredibly functional German VSB auto door. Customers looking for a lie-in at weekends, or a secure way to keep their chickens safe, love both models.
Always popular is our very own HempBed-E poultry bedding. With its added eucalyptus to help eliminate smells and its high absorbency rate, it really is our best seller and we use it in all of our own coops here at FSF HQ too.
What are your plans for future development of the business?
A: Our resident Flyte so Fancy ducks have been on overtime this spring and hatched out a whole clutch of cute ducklings to join the FSF Team. With their arrival, Phill and the workshop have been working on a stately new floating duck house for them all to live in, and we have just 'launched' the Flyte so Fancy Floating Duck Lodge.
Flyte so Fancy continues to expand its range of poultry-keeping products with its new Flyte Coop and Run Sanitising Powder, and keeping the biggest and widest range of items for the discerning chicken keeper.
Our big project for 2014 is the new workshop being built at the moment (Phill's 'workshop at the end of the garden' finally succumbing to senility after 13 years). Big enough that people in the village asked if we were building a swimming pool, our new workshop will allow us to bring in new designs to expand our offering and increase our range of poultry supplies for 2015.
For more information see the FSF website: www.flytesofancy.co.uk. To receive a copy of their catalogue, email info@flytesofancy.co.uk or call 01300 345229.
Image(s) provided by:
Archant