Over 2,000 attendees and 90 exhibitors attended the inaugural West Country Farming & Machinery Show on 22 February 2023.
From the publishers of Agricultural Trader, Profi, Farm Machinery and Crop Production Magazine, the South West's new farming show took place at Westpoint Arena in Exeter with crowds streaming into the venue all day.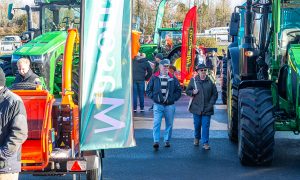 "We had a fantastic day," said a representative from M Baker Engineering, who exhibited at the show. "We never stopped talking to customers from 8.15am until 3.45pm – very positive! Hopefully next year will be happening…"
Indeed, such is the success of the first West Country Farming & Machinery Show that it's pleased to announce the show will return for 2024 on 21 February at the same venue of Westpoint Arena.
With companies representing all facets of the farming industry, top machinery from the best manufacturers, thought-provoking seminars, a live machinery auction and more, the West Country Farming & Machinery Show was a fantastic one-day opportunity to sample and keep
up-to-date with all things farming and farm-related, all under one roof.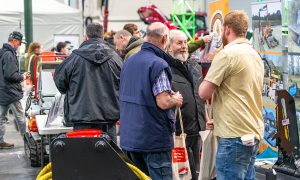 "We're so proud to have brought this brand-new show to the South West," said show publisher, Rhiane Easton. "To truly showcase all that the agricultural and farming industry has to offer and to come together to celebrate all that it stands for.
"Being based in the South West and working with excellent agricultural companies on a day-to-day basis, we at Agricultural Trader realised that there wasn't a professional business show for our industry based in the area, and thus the West Country Farming & Machinery
Show was born," she continued.
"This is why we brought together all the very best exhibitors the South West has to offer, covering traders for the very best machinery and products, to financial and business services,as well as charities and colleges, plus much more.
"We're pleased to announce that the West Country Farming & Machinery Show will return for 2024 and we'd like to thank all sponsors, exhibitors and attendees for making the show such a huge success. We couldn't have done it without you."
The West Country Farming & Machinery Show returns to Westpoint, Exeter on 21 February 2024. Keep it here for all updated information and make sure you follow the event on Facebook.
More news like this can be found in The Country Smallholder magazine. Subscribe here.
For FREE updates from the world of smallholding, sign up for The Country Smallholder newsletter here.