The Wildlife Trusts are urging the public to go wild this winter, and sign up for some festive fun to help nature.
Join thousands of people across the country who are brightening up the wintery days by signing up for 12 Days Wild. You can get closer to nature with this festive challenge from The Wildlife Trusts even when it's cold and wet outside. Do one wild thing each day from 25thDecember to 5th January as part of 12 Days Wild. You'll receive daily inspirational emails jam-packed with fun ideas to help you connect with wildlife and lift your mood.
Spending time in nature can help you feel happier and healthier, as our summer challenge, 30 Days Wild, has shown. Whether you take a walk in the park, watch out for starling murmurations, or create some natural art, this shorter, winter challenge is for everyone to enjoy.
Signing up is also a chance to give something back to nature by making some small changes. You could go plastic-free for New Year, recycle your Christmas cards, feed the birds or volunteer at a local nature reserve.
12 Days Wild is bursting with creative ideas to give you a natural boost. You could:
Do some detective work and spot animal tracks in the mud or snow
Get crafty using natural materials and create some wild art
Go wild in town or country and visit a nature reserve
Beat the January blues by listening to our Wild about Wellbeing podcast
Make a New Year's resolution for nature to go plastic free/cycle to work/volunteer
Or simply get out there and enjoy a walk on the wild side!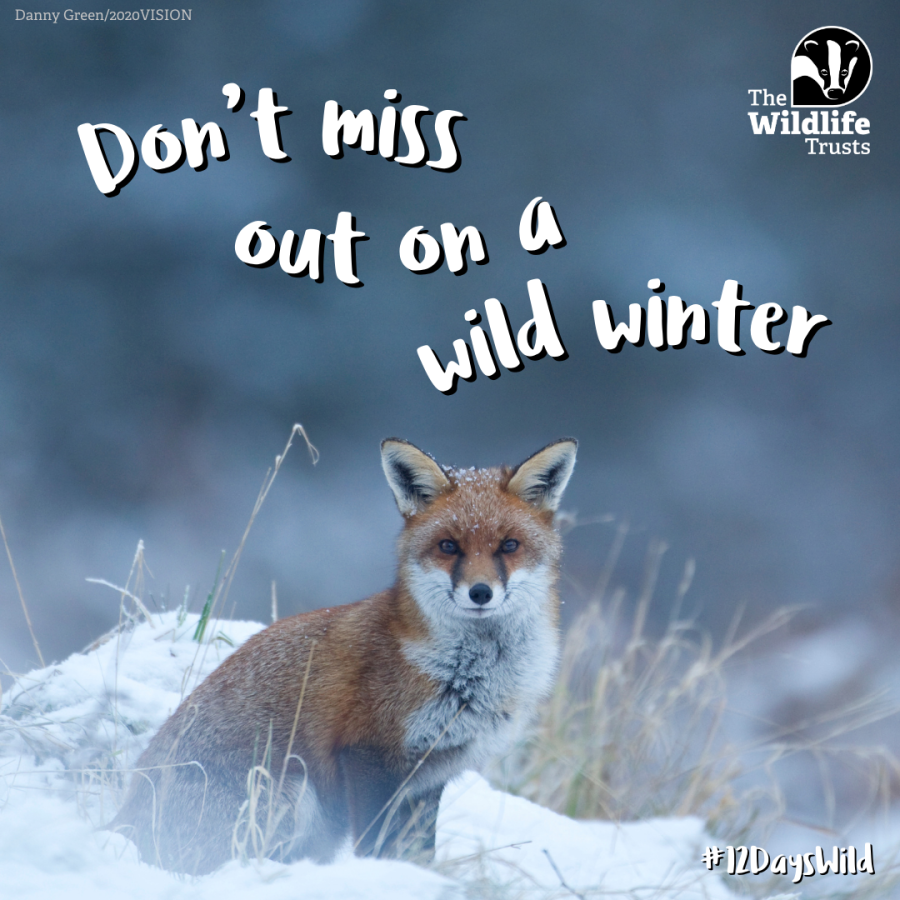 Cel Spellman, ambassador for The Wildlife Trusts says: "The festive season is special for all of us and it's important to think about the natural world too. There are lots of ways to make positive environmental choices at Christmas, such as using alternatives to single use wrapping paper, buying second-hand gifts, or creating decorations with natural materials. Whether you're visiting nature reserves or appreciating the wildlife on your doorstep, 12 Days Wild is great for connecting us with the natural world during wintery days and nights."
Mya-Rose Craig, ambassador for The Wildlife Trusts, says: "12 Days Wild is a brilliant way to encourage us all to have a wild adventure each day during mid-winter. It can be really tough to get your daily dose of nature when daylight hours are at their shortest, but 12 Days Wild is packed with ideas and ways to connect with wildlife both indoors and out. I always make sure I keep my bird feeders topped up in winter and love seeing which birds visit my garden. I have even been lucky enough to see a starling murmuration at dusk!"
Sign up online at www.wildlifetrusts.org/12dayswild for free guides, activities, and inspiration.
Share photos and videos of your nature inspired moments on social media using #12DaysWild
Main image (coal tit & blue tit) credit: Mark Hamblin 2020VISION
More content like this can be found in The Country Smallholder magazine. Subscribe here.
For FREE updates from the world of smallholding, sign up for The Country Smallholder newsletter here.