The Royal Bath & West Show looks forward to welcoming back visitors and competitors alike on 1-3 June, 2023, with entries to the wide range of competitions now open.
Visitors can expect three days of action-packed family entertainment, featuring the best of British agriculture, equine competition, and rural life exhibits. The popular livestock Grand Parade will showcase the championship-winning beef and dairy cattle, as well as pigs and sheep, while equine competitors will be keen to claim prestigious show jumping accolades or have a chance to qualify for the Horse of the Year Show.
"Our agricultural, equine and rural heritage remains at the heart of the show, with quality entries and entertainment throughout," explains Jess Chiplen, Head of Shows. "And we're looking forward to educating the next generation, with our new STEM Zone, 'Discover the future', which will be packed full of interactive technology and engineering displays designed specifically for children."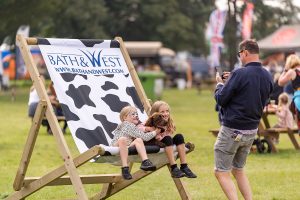 And that's not the only forward-thinking element, with this year's show introducing a new veterinary award. "We're delighted to announce the launch of the 'Farm Vet of the Future' competition," says Miss Chiplen. "The competition is open to UK final year vet students intending to become farm vets. The winner and runner-up will be invited to attend the Royal Bath and West Show on 1 June, when the winner will be announced."
Naomi Guiver, Competitions Executive adds: "It's great to open entries for a diverse and wide-ranging schedule of competition, which will undoubtedly bring out the highest quality animals and contestants from across the region."
Livestock
As always, the livestock classes are at the centre of the show; with beef, dairy, sheep, and pigs featuring on every day of the event.
Entries for sheep, beef, and pigs close 17 April, 2023
Entries for dairy cattle close 8 May, 2023
Equine, shoeing, and shoemaking
Another packed equine schedule, all focused in one area of the showground and to include heavy horse, light horse, scurry driving, and show jumping, as well as the highly skilled farriers entering the shoeing and shoemaking competition.
Entries for scurry, light horse, and heavy horse close 24 April, 2023
Entries for show jumping close 19 May, 2023
Entries for shoeing and shoe making close 2 May, 2023
Sheep shearing
World class contestants go up against each other, and in the process demonstrate the art of professional shearing. – Entries close 23rd May 2023
Team Challenge
Designed to help the younger stock person demonstrate and develop their skills in stock judging, cattle preparation and cattle showing. There are two categories, beef or dairy, and within each class Juniors (10-17 yrs) and Seniors (18-28 yrs) compete in teams of three. – Entries close 8th May 2023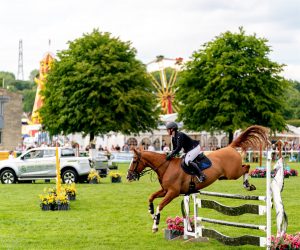 Arts, floral and produce
Featuring at the show for over 100 years, the Art competition encourages and promotes artists from the South West, with entries including paintings, drawings, sculpture, ceramics, and original limited prints – Entries close 18th April 2023
The Floral Art competition sees entries of unbridled creative aplomb, attracting virtuoso florists to the showground – Entries close 3rd May 2023
The British Cider Championships offer up the very best in beverage from across the country – Entries close 9th May 2023
Finally, produce the nation can be proud of, goes head-to-head in the Egg competition, and in the Bees and Honey competition.
Entries for eggs close 10th May 2023
Entries for bees and honey close 1st May 2023
And with plenty of other attractions, a myriad of traders offering local food and drink, and live music continuing long into the evening, there is something for everyone at the Royal Bath and West Show, says Miss Chiplen. "We can't wait to see our visitors and exhibitors alike, who are welcome to camp overnight to make the most of the occasion – and exhibitors, don't forget our new and improved Stockman's Supper on the Friday night."
The Royal Bath & West Show takes place on 1-3 June 2023 at The Showground, Shepton Mallet, Somerset BA4 6QN. Competition entries can be made by visiting https://www.bathandwest.com/royal-bath-and-west-show/competitions
To enter the farm vet of the future award, visit http://www.bathandwestsociety.com/farm-vet-of-the-future-award
Book show tickets here: https://www.bathandwest.com/tickets
More content like this can be found in The Country Smallholder magazine. Subscribe here.
For FREE updates from the world of smallholding, sign up for The Country Smallholder newsletter here.