Business is booming for one young pig farmer, as Liz Shankland discovers in this month's Pig People
At a time when high feed prices are putting so many people off keeping pigs, it's refreshing to hear of someone who is actually expanding a herd, rather than cutting back or getting out altogether.
Sam Holloway, aged just 29, is the driving force behind Sam's Pigs, a business selling premium pork products, based at Locke Farm, near Yeovil in Somerset. A sixth generation farmer, his family have farmed the same 400-acre site for more than a century.
A dairy farm until 1998, the farm is now home to an ever-increasing number of pedigree Oxford Sandy & Black pigs, along with an organic beef herd, headed up by Aberdeen Angus bull, Sid. The pigs have, more recently, become the focus of the farm, with produce winning prize after prize in local food competitions.
Sam's Pigs began in February 2011, and now he, his parents Rob and Mandie, and younger sister Jennifer, all get involved in the business in one way or another. Sam and Rob work full-time on the farm, while Mandie, who works at a local college, helps out at farmers' markets, food festivals and similar events. Jennifer used to do the same, until she recently moved to north Wales, but she still lends a hand by selling pork there.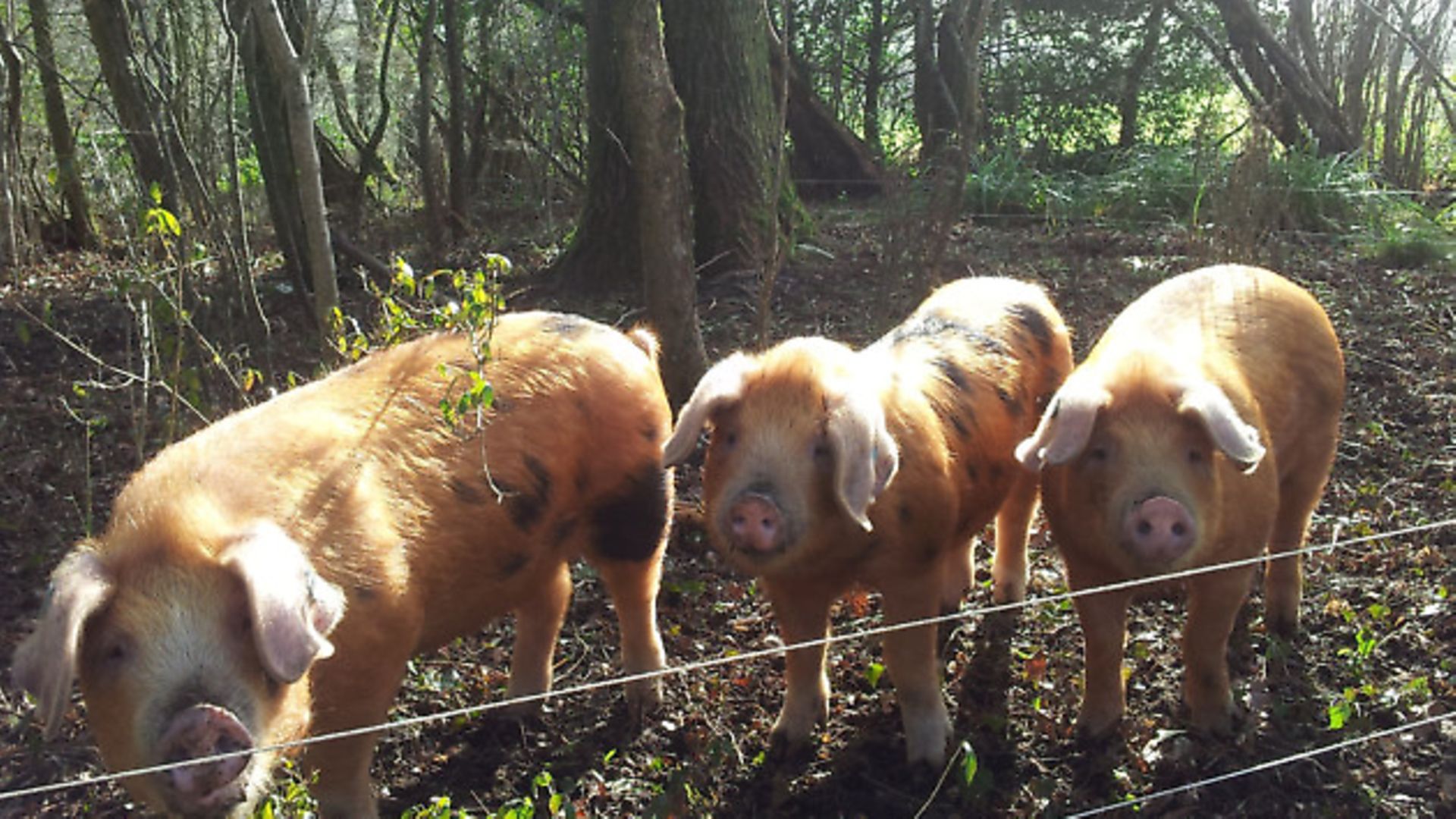 Most popular of all are the gluten-free sausages that Sam's Pigs produce, favoured not only by people with allergies or an intolerance to the ingredient, but also by the growing number of others who simply prefer not to eat food containing it.
"I identified a gap in the market for a good sausage," Sam explains. "We attend Yeovil Farmers' Market once a month, as well as food festivals in the area. Our shop in the village of Halstock is community-owned and supports us well, and has become a steady sale point for us. Another big one for us is selling direct to Capreolus Fine Foods, a business which specialises in charcuterie. I supply them with meat for their products and they help me process my pork. I also have a new website under development which will provide an online shop and mail order service, so that customers who stumble upon us at food festivals will be able to buy our products all year around by shopping online."
Sam's first encounter with pigs goes back to when he had three Berkshire pigs – two sows and a boar which were given to the family by a holidaymaker who had rented one of the farm's guest cottages – as a child. Unfortunately, no piglets ever appeared. His first experience of fattening pigs for the freezer came in 2010 when he and his father accepted a couple of cross-bred weaners in return for topping a neighbour's fields. "These were regular pink pigs," he remembers. "They ran to fat and ended up getting butchered very poorly by the abattoir we used."
Not surprisingly, after such a disappointing experience, Sam decided to do some research before thinking about getting pigs again.
"I chose the Oxford Sandy & Black as a breed because its characteristics suited my needs," he explains. "In addition to being a rare breed, it's a good-looking pig, making it appealing to potential customers. When I initially researched the breeds, it was the one that really stood out. The characteristics listed by the breed club suited what I was looking for in a breed – they are suitable for beginners, prolific, docile, friendly and good mothers. Unlike some other rare breeds, they tend not to run to fat, and produce great-tasting meat.
"I consider my true first experience of pigs to be when I started Sam's Pigs in February 2011, when we bought five weaners, two gilts for breeding and three boars to fatten. One of the boars was used for a hog roast and the others went for sausages and a few pork cuts. They sold very quickly and I soon realised that we couldn't wait for our gilts to grow up!
"I bought an in-pig sow at the end of that summer. I remember my first farrowing very clearly; it was a nightmare. In November, she gave birth to 15 piglets, which I was extremely happy about. However, over the next couple of days I soon dreaded visiting her and the piglets, as each time there would be one or two dead. I was left with just five." Undeterred, Sam did lots more research and talked to experienced breeders, one of whom suggested installing a creep area with a heat lamp, so the piglets could keep warm without having to cuddle up to the sow and risk being squashed.
The herd currently stands at nine sows, two boars, two gilts and around 65 growing stock of various ages, from a few days old to about a year. "This is pretty much the number of pigs we've had over the last year, but we'll be expanding over the next year to at least 15 sows, due to demand for our pork," Sam says.
Image(s) provided by:
Archant