A poll of pet owners in the UK revealed that over half (53%) of Brits are planning to make Christmas special for their pet, and nearly a quarter (23%) are planning to give their pet a Christmas meal this year.
With this in mind, greetings card marketplace thortful has partnered with the RSPCA to create a delicious selection of Christmas treats and snacks for your favourite furry friend.
On the menu, there are pooch-friendly mini festive puddings to festive hay wreaths for your rabbit. There's even some delicious cookies for Rudolph – just be sure to make them in time to leave them out on Christmas Eve for Rudolph and his reindeer friends!
Winter Wildlife Sprinkle Dust
Spoil your outdoor wildlife this festive season and give this recipe a go:
Ingredients:
A scattering of wild bird seeds
A handful of rolled oats
Dried fruits
Dried insects
Grated cheese
A pinch of mild chilli powder
How to make Festive Wildlife Sprinkle Dust:
Get a hold of some wild bird seeds whether that's black sunflower seeds, yellow millet or sunflower hearths.
Throw in some rolled oats for that added texture and flavour along with some dried fruit and insects. (Warning! If you're a dog owner then don't use grapes, raisins, sultanas and currants as these can be poisonous to them.)
Add your grated cheese and then sprinkle in a dash of mild chilli powder to help discourage rodents.
Once that's all mixed together you can either sprinkle your Winter Dust on your grass in the garden or leave it in a higher place such as on a bird table.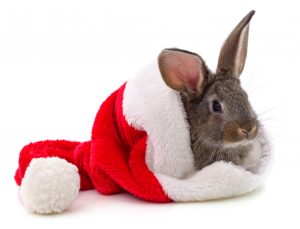 Festive Hay Wreaths
Give your furry rabbit friends the perfect gift and make the festive season extra fun with these cute Christmas hay wreaths.
Ingredients:
Brown paper
Pet-safe string
Hay
Scissors
How to make festive hay wreaths
Roll out your brown paper and cut a long strip about an inch or two wide.
Shape your hay into a circle – leave a hole in the middle, since this is a wreath, after all!
Wrap your paper around the hay under and over until you've reached where you started.
Attach some string to secure both ends of the paper, leaving enough spare so you can hang it.
Cut off any excess hay so that it looks all neat and tidy.
Cinnamon Spiced Cookies
Why not treat your horse to a delicious, homemade cookie this Christmas? 
Ingredients:
2 cups of plain flour
1 teaspoon of cinnamon powder
1/4 cup of molasses 
How to make Cinnamon Spiced Cookies
Grab a large bowl and combine the flour and cinnamon together.
Pour in your molasses and stir well until it forms a dough mixture.
Sprinkle flour on your work surface and roll your dough until it's 1/4 inch thick.
Cut the dough into whatever fun biscuit shape takes your fancy, from Christmas stars to trees. If you want to keep things traditional, cut the dough into rectangles and use a fork to crimp the edges, then use a cocktail stick or knife to draw a heart shape in the middle.
Important: If you're using a cookie cutter, use a large shape to make your biscuits big enough for horses – anything too small could be a choking hazard! 
All that's left to do is pack them and take them with you the next time you go to see your own horse.
Rudolph's Favourite Cookies
Why not test your baking skills and make these delicious cookies for your four-legged friends?
Ingredients:
250g of lard, suet or vegetable shortening
500g of wild bird seed mix
A generous handful of dried cranberries
How to make Rudolph's Favourite Cookies
Melt your lard, suet or vegetable shortening in a bowl over low heat, making sure it doesn't boil.
Once fully melted with no lumps to be found, add in the wild bird seed mix and dried cranberries – although remember that it's very hot! 
Once everything is fully mixed and combined properly, put your bowl to one side for 10 minutes.
Grab a baking tray and line it with some greaseproof paper.
Your mixture should have thickened a bit in the 10 minutes, meaning it's now time to transfer it into your baking tray, making sure it's all level and at least 2cm thick.
Place your baking tray in the fridge to cool for around 30 minutes.
Take your mixture out of the fridge and use your cookie cutters to start cutting out your cookies. Your mixture will be pretty solid so make sure to push down hard when making your shapes.
You can crush any leftover mixture into small pieces and put it in a bowl or feeder in the garden for the birds to enjoy.
Put your cookie shapes back in the fridge again to fully set overnight. 
Christmas dinner leftovers
Everyone loves a Christmas dinner, and that goes for animals too. But which parts of a Christmas dinner are actually safe for animals to eat?
Turkey – The staple and centrepiece of a Christmas dinner, you can feed a little leftover turkey to your dogs and cats as long as it has been de-boned, and no gravy has been poured over it.
Pig in blankets – While you might think pigs in blankets are safe for pets, being made from processed meats means they're not suitable for animals as they have high salt and fat content.
Stuffing – Unfortunately, due to being high in salt and other artificial ingredients, stuffing isn't animal friendly. Any leftovers should be eaten by yourself (that's what leftover sandwiches on Boxing Day are for).
Brussels sprouts – Love them or hate them, Brussels sprouts are a quintessential part of a traditional Christmas dinner – but if you're not a fan, you can leave any unwanted sprouts out for badgers and foxes to enjoy.
Carrots – Leftover carrots can be fed to dogs. Foxes and badgers also enjoy nibbling on carrots. Maybe that's why these critters can see in the dark so well!
Peas – If you've got any leftover peas on your plate, these can be left out for badgers and foxes.
Potatoes – Whether you prefer your potatoes boiled, roasted, baked or mashed, birds and badgers will also enjoy feasting on them around Christmas day too.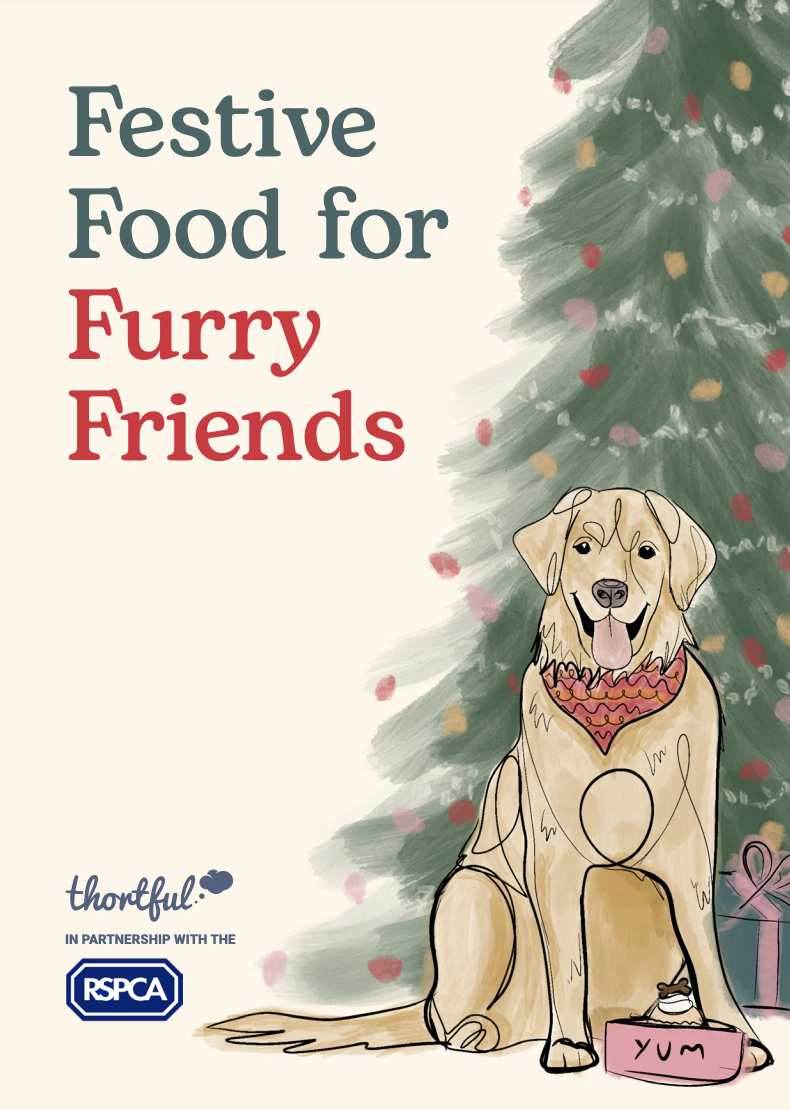 See the full collection of recipes here.
A spokesperson at thortful said: "We're really excited to launch our charity partnership with the RSPCA – at thortful we love our furry friends, and we know our customers do too. Obviously, we believe that all animals deserve love and care all year round, but we know that this winter will be a tough one for lots of people. But together, we can help make Christmas a better time for everyone and that's why we've launched festive recipes that you can make at home for your pet. Our research has shown over half of pet owners plan to make Christmas special for their pet, and our mission is to ensure that the festive season and beyond is fun for all the family."
To get involved and do an extra good deed to make it onto Santa's nice list in time for Christmas, every time you buy a thortful RSPCA Christmas Card, they will give £1 to the RSPCA. See the full collection of RSPCA Christmas cards here. 
More news like this can be found in The Country Smallholder magazine. Subscribe here.