A book by roundhouse pioneer Tony Wrench has just been updated. Here he tells the story of his celebrated 'hobbit house'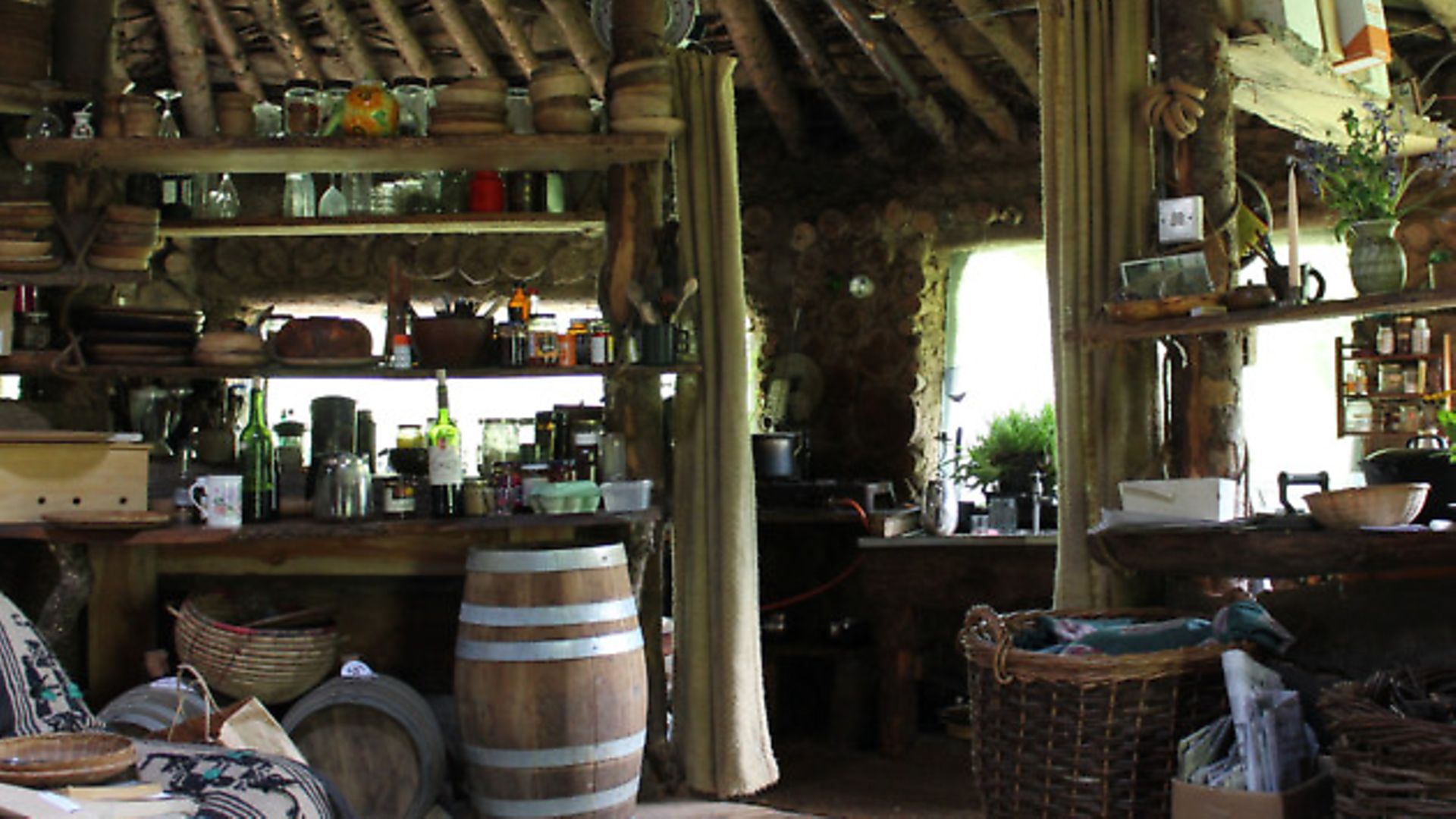 My book Building a Low Impact Roundhouse, now in its fourth edition, is the story of how my partner Faith and I built the house I now write in. That was 15 years ago, and some techniques we used have evolved, but the basic points I would share with you are still the same, and will be familiar to many a smallholder.
I suppose the main drive was to live in a sustainable way, near other people of like mind, in a building I had designed and we had built ourselves. We didn't have more than a couple of hundred pounds of savings, so the main thread of the design is to use freely and locally occurring materials, like Douglas Fir thinnings, mud and turf. I have often found rectangular buildings to be slightly inefficient in space and to impose design limitations, so I wanted to go circular. After all, for thousands of years our species has survived and prospered in round buildings. I read up on vernacular buildings around the world, becoming especially fond of the book Shelter, which, as well as containing hundreds of pictures, gives good line drawings and construction tips on simple peasant dwellings from our and previous times. I had no particular carpentry or building skills, although I had been experimenting with chicken coops, a wooden tipi, a rural bedsit and a summer house thingy in the acre of our smallholding.
The design I came up with was part Celtic roundhouse, part Mandan and part Pomo (two native American peoples), incorporating roundwood frame or henge, a roof of reciprocal frame, the construction of which I fell in love with the minute I heard about it in 1990, walls of cordwood like the early Swedish settlers made on the American prairie, and turf roof over a pond liner membrane. The Pomo used 2ft of pine needles of insulation under their turf – OK, we would have 150 straw bales tied together. We could use permaculture design principles to site the roundhouse in such a way as to catch the sun in the winter, spring and autumn, to be a base for grape vines, and to let in light through as many recycled windows as we could pack onto our electric milk float.
So there you go. It worked, and it still does. It cost us £3,000 at the time, including the woodburning stove with back boiler, the four PV panels, the battery and the big whiskey barrel hot tank. We have spent a further £2,500 on an extra liner under the turf, an extension tool room and wood flooring. We have built a 4.5-metre-diameter round den of cobwood and turf roof for family and visitors to stay in for an extra £800, made by 20 volunteers over three weeks. All these figures are quite low on noughts, aren't they? So yes, it can be done. A home need not cost you a witheringly large sum.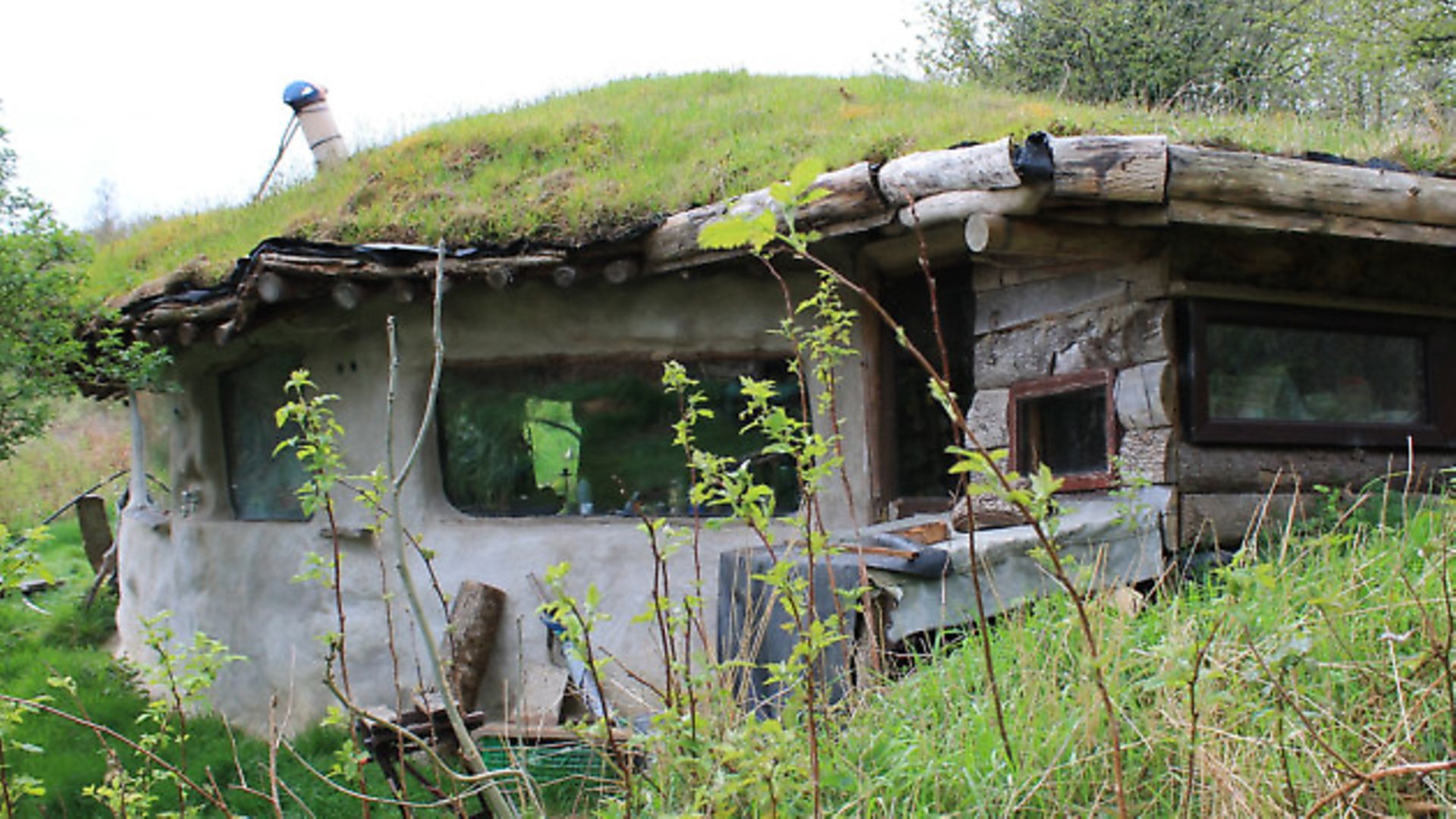 Planning has been a tricky issue, with our local authority struggling for a long time with its own rhetoric about sustainability being the new cornerstone of the planning system, while trying to take up arms against anyone trying to build sustainably outside town limits. The problem was eased by the Welsh Government's support for sustainability in all areas, and by a huge public support for us, all of which is in my website (www.thatroundhouse.info) if you like history. We now live under a Low Impact Policy, with temporary planning permission renewed regularly so long as we keep the supermarket, the heliport and the brewery on hold. We need to show, basically, that over three quarters of our basic needs are met from the land. Our neighbours also live in the same way, so this valley is an asset to the National Park, and no longer a problem.
Living close to the land, with no chainsaws or even vehicle access, nor fridge, freezer, television, vacuum cleaner or washing machine, is not everyone's cup of tea, and I have no wish to impose my way of life on others. It is another piece of the picture, however, that many still find appealing.
MORE: Building a Low Impact Roundhouse, is available from Permanent Publications, RRP £12.95. http://permanentpublications.co.uk/
The book
From the process of visualising and designing a house through to the practical side of infilling the walls, laying out rooms and adding renewable, autonomous technology, Tony Wrench's book, Building a Low Impact Roundhouse, covers everything you will need to know to make building your own home a real possibility.
Tony talks about the lifestyle required to live in a roundhouse, with advice on compost toilets, wood stoves and planning permission. The book includes photographs of life at the dwelling, as well as the construction plans. Tony has spent many years designing and implementing both renewable energy and building projects. He makes his living from wood turning, singing and playing musical instruments (some homemade). He also runs workshops and has helped build many more roundhouses. www.thatroundhouse.info
Planning battle
Tony Wrench's roundhouse is sited in woods in the Pembrokeshire Coast National Park near Newport. It was built without planning permission during the winter of 1997/1998 by Tony, Jane Faith and helpers as part of the then secret Brithdir Mawr intentional community. The structure was discovered in 1998, challenged by the authorities, and threatened with demolition; it was granted retrospective planning permission in 2008. The 'radical experiment' attracted much media attention over issues surrounding green building, affordable housing, low-carbon building and sustainable living. It was also an inspiration for creators of Lammas eco-village, featured in CS last year.
Image(s) provided by:
Archant